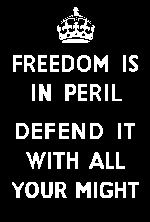 THREAT TO FREEDOM
Jews from all parts of Europe have poured into Britain during the last hundred years or so, crying out that they have been persecuted and appealing for refuge, which has been generously granted to them. Now, however, with the wealth and power which they have amassed, they have taken to demanding and securing more and more reduction in our ancient freedom, so that the wartime poster shown here has new and striking relevance today.
Heading the concerted attack on our freedom is Eldred Tabachnik, President of the Jewish Board of Deputies, who is a close friend of Tony Blair. Before the last General Election Tabachnik obtained an agreement from the Labour Party to end freedom of speech on the subject of the Jewish holocaust by subjecting denial of it to a two-year jail sentence. The then Home Secretary was Michael Howard, the son of a Jewish refugee from Romania, born Michael Hecht. The current Home Secretary, Jack Straw, is also Jewish.
The Jewish community's main organ, the Jewish Chronicle (4 October 1996) joyfully reported this proposed further mutilation of British freedom as follows:
'A Labour Government will act to make Holocaust denial a criminal offence, Opposition leaders pledged this week. The announcement, made at the party's Blackpool conference, was the culmination of a lengthy campaign by Jewish groups, including the Board of Deputies, the Holocaust Education Trust and Poale Zion. Shadow Home Secretary Jack Straw confirmed that the motion committing a Labour government to such a law – due to be discussed yesterday – had the backing of the entire leadership. The Blackpool conference continued the party's courting of the Jewish community.'
This alleged Jewish holocaust centres on the contention that no less than 6 million Jews were deliberately put to death by Germans during the Second World War, a great part of them by gassing. There are very many substantial and serious contradictions and deficiencies in the accounts, sufficient at least to raise grave doubts that this holocaust ever happened as described, although undoubtedly a great number of Jews were put in camps as avowed enemies of the regime and a security risk to it, and many fell victim to typhus in the final days of the war when Allied bombing severed communications and stopped supplies.
Instead of the suppression of contrary opinion sought by Tabachnik and his fellow foes of freedom, we call for unhindered free discussion regarding this and all other alleged holocausts and atrocities. If the Jews are confident of their case, why do they need to ban dissent?
Adapted from a pre-election leaflet by Colin Jordan. What, one cannot help wondering, were the Jews promised in return for reneging on the commitment to make Holocaust denial illegal?